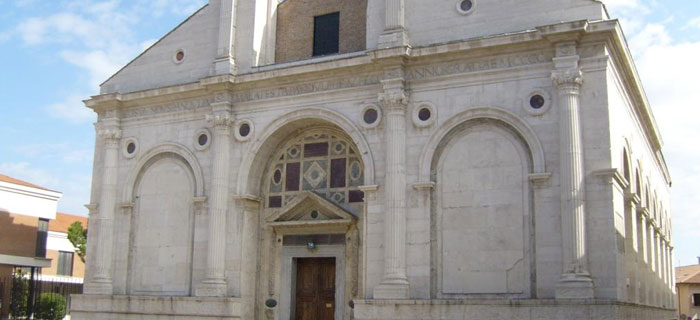 The Malatesta Temple
Via IV Novembre. It is an intense love story that tells the Malatesta Temple (1450), a masterpiece of the Italian Renaissance.
The love is that between Sigismondo and his very young lover who later became the third and last wife Isotta Degli Atti.
Sigismund had this work carried out (first by remodeling, then demolishing a Franciscan church) with the idea that it should become a mausoleum for himself and for Isolde.
White and hieratic with a marble façade, signed by a giant in the history of architecture, Leon Battista Alberti, the Malatesta Temple contains a series of chapels and treasures: a Crucifix by Giotto, a fresco by Piero della Francesca, the precious bas-reliefs of the angels playing on a blue background.
The peculiarity of the Malatesta Temple is that for the first time, in full Renaissance philosophy, not only God is celebrated, but rather a man, Sigismund.
A man who, however, fell into disgrace, his dream, was never concluded.
But it is a splendid unfinished. The Malatesta Temple, Rimini Cathedral, can be easily reached by bus n°11. The bus stop is 100 metres from Hotel Monica, while the nearest stop to the Duomo is the terminus.