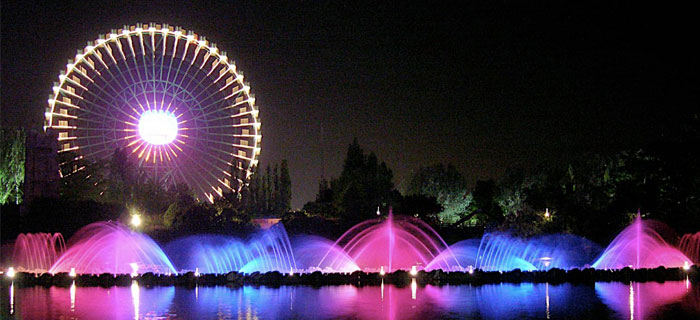 Theme Park
The Riviera Romagnola is the area with the highest density of theme parks in Europe. Discounted tickets for all the parks of the Riviera are available in the Hotel! In addition to the economic savings, the tickets purchased at the Hotel are valid for 2 days and will allow you to immediately access the parks, skipping the line at the checkouts!
Oltremare is the world in which the elements of nature become an opportunity for discovery and fun for young and old! The largest Dolphin Lagoon in Europe is the main attraction with a truly unforgettable show and the chance to meet dolphins after the show!

In Rimini there is also the only park in Italy suitable even for very young people of two, three years: it is Fiabilandia (tel. 0541.372064).
It rises around a body of water with Captain Hook's pirate ship and a seal and a sea lion (real) swimming or resting.The park of Fiabilandia is very close to our Hotel. You can reach it on foot through a pedestrian underpass in just 5 minutes. In the Hotel you can have tickets at discounted prices, which allow entry to the park of Fiabilandia for 2 days and skip the lines at the cash desks. Children under 3 years are free!
The Aquarium of Cattolica is the most important of the Adriatic. more than 3,000 specimens of 40 different species. A magical place to visit both on sunny and rainy days, since the 4 routes that make it up are completely indoor!
A fun day can be spent in Italia in Miniatura (tel. 0541.736736).
The park over the years has become more and more extensive: today the attractions are many.
In addition to seeing up close the spectacular Italy in scale with 272 perfect reproductions (made by professional sculptors), you can navigate the canals of a realistic Venice.
And yet here is the science museum, the battle of water cannons, the breathtaking descents on fast canoes.
In nearby Ravenna (40 minutes by car) there is Mirabilandia. A huge park, which unlike Fiabilandia, is suitable for older children; the rides are many, but those that characterize the park are those dedicated to those who love speed and adrenaline, such as the Katun (inverted coaster No. 1 in Europe) and the Ispeed, roller coasters that speed at the speed of a Formula 1 single-seater.