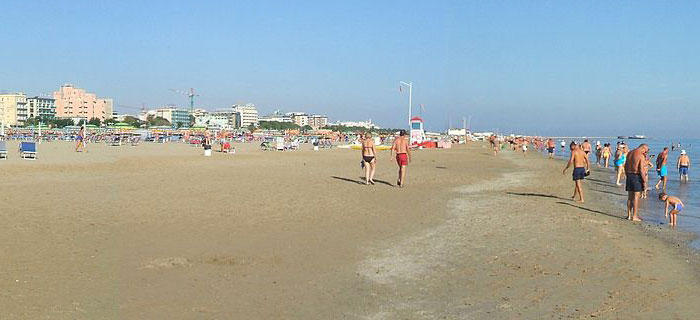 Marina center
It is the soul of the seaside Rimini, it is the central point of the seafront.
Marina Centro has a real official date of birth: 1843. It was in that summer that some entrepreneurs (the Counts Baldini and the doctor Claudio Tintori) opened the first bathing establishment.
Summer after summer, more and more holidaymakers, families of the good bourgeoisie began to spend long weeks in Rimini..
So much so that in 1869 the Municipality of Rimini decided to enhance the "beach resource" took over the Tintori-Baldini plant and gave the task to a well-known doctor and physiologist, Paolo Mantegazza, a thalassotherapy specialist, to conceive, build and direct a new "Grandioso Stabilimento Balneare".
It was the turning point; Rimini became the place where the therapeutic aspect of the "care of sea baths" was combined for the first time with fun.
In less than 50 years the landscape changed.
Instead of sand dunes and small swamps, an elegant city materialized, made of Liberty cottages and walks.
By now the road was traced: not only therapeutic baths, vacationers seemed to come to Rimini more and more to relax, have fun, smile.
Result: the Rimini plant became "unquestionably the first in all of Italy".
In 1845 a horse-drawn carriage service was inaugurated that connected the center to the beach along the tree-lined Viale Principe Amedeo.
Even today it is full of greenery and buildings of the late '800; in 1872 the Kursaal was also built with its waltzes and charleston under the stars.
Rimini was really a fashionable place. Marina Centro should be seen in at least two moments: in the morning when life starts up again and the chic guests of the Grand Hotel cross the avenue to go down to the beach.
And at sunset when the fishing boats return to port chased by flocks of seagulls The best point to wait for them is the "palata" (contract perhaps from "palisade"). It is the pier at the end of Viale Tintori: a 200-meter walkway built over the sea.
A place to meditate, surrounded by water to the right and left.
At any time of the day you will meet Rimini in search of a moment of introspection. It is precisely here that Federico Fellini imagined the nocturnal appearance of the ocean liner Rex.