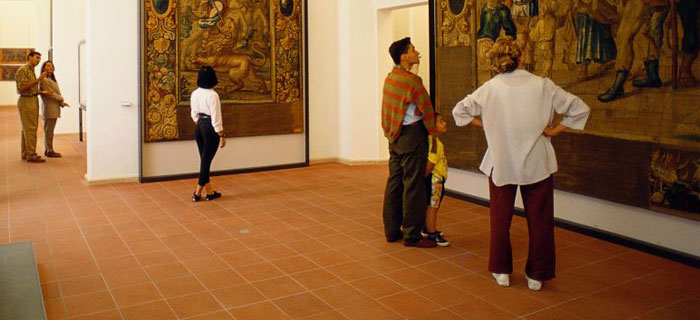 City Museum
In via L. Tonini, 1, next to the Church of Suffrage, housed in the eighteenth-century Jesuit college (for info tel. 0541.21482), the City Museum collects the past of Rimini, is a mine of wonders and curiosities.
There are the small pieces that were used as entrance tickets to the Amphitheater, statues of gladiators.
Nest eggs of pennies from the Roman era, sumptuous mosaics, amphorae and bricks of the clay furnaces opened by the first entrepreneurs of Rimini.
There are exhibited the works of the Pinacoteca, where you can admire paintings, sculptures and ceramics, tapestries and goldsmiths, the imposing fresco with the Last Judgment from the church of Sant'Agostino, the masterpieces of the Rimini School of the fourteenth century, the refined Crucifix by Giovanni da Rimini and the precious polyptych by Giuliano da Rimini, pottery and mugs decorated with Malatesta coats of arms, precious tables of the golden age of the Malatesta lordship commissioned to artists of great fame such as: Giovanni Bellini, Domenico Ghirlandaio, Agostino di Duccio, Pisanello and Matteo de' Pasti, Guido Cagnacci, Centino, Guercino and Simone Cantarini.
The inner courtyard houses the Roman Lapidary with a large collection of inscriptions from the first century a.C to the fourth century .C. a permanent space is dedicated to the splendid graphic production of Renè Gruau, an artist from Rimini who for over 70 years has worked in the field of fashion illustration.
Recently the first section of the Archaeological Museum has been opened, dedicated to the imperial Rimini of the second and third centuries, with particular emphasis on the Domus of Palazzo Diotallevi, famous for the mosaic of the boats, and the Domus of Piazza Ferrari, known for the rich instrumentation of the doctor-surgeon.