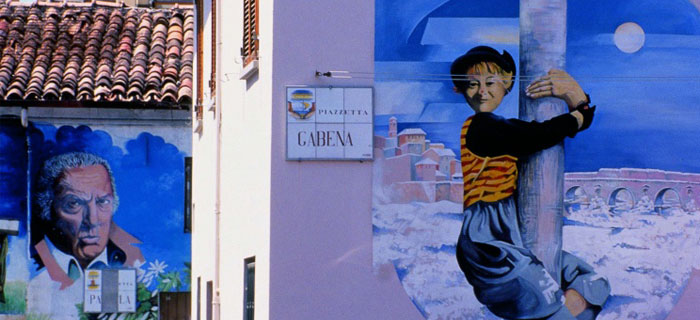 Il borgo san giuliano
Today in Rimini if we talk about "village" we mean above all that of San Giuliano, on the northern bank of the Marecchia river, separated from the historic center by the Tiberius Bridge.
Born around the year one thousand, it was the ancient fishermen's quarter.
Today the houses here are skyrocketing and it is a pleasure to walk through its narrow streets and squares, a classic example of ancient social housing, poor, of medieval flavor, but perfectly restored: pastel-colored walls often decorated with large murals, vases of flowers on the balconies.
A good entrance can be the small Via Marecchia, you walk in silence (the area is a pedestrian area) in an atmosphere full of poetry.
It is said that the Borgo San Giuliano was the favorite place of Federico Fellini and Giulietta Masina …, worth a visit the church of San Giuliano, of Palladian flavor, an ancient Benedictine abbey (IX century) that tradition has it erected on a pagan temple.
Not only because among the various works there is also a painting by Paolo Veronese: the Martyrdom of St. Julian (it is on the high altar).
But also because just below the large canvas there is a marble sarcophagus from the Roman age: it is said to contain the remains of the young Istrian saint tortured by the proconsul Marciano.
Tradition has it that the sarcophagus mysteriously ran aground on the beach of Rimini, coming from Dalmatia, since then a miraculous source of water gushes out at that point: the Sacramora, that is the sacred dwelling.
The church has always been a pilgrimage destination.
Borgo San Giuliano has a particular characteristic: the interest in cultivating and preserving its own history, even the small and close in time.
There is a history of pride in calling oneself "borghigiani", also linked to this continuously renewed memory.
Every two years in September here is held the Festa de 'borg: an unmissable appointment for Rimini and not.