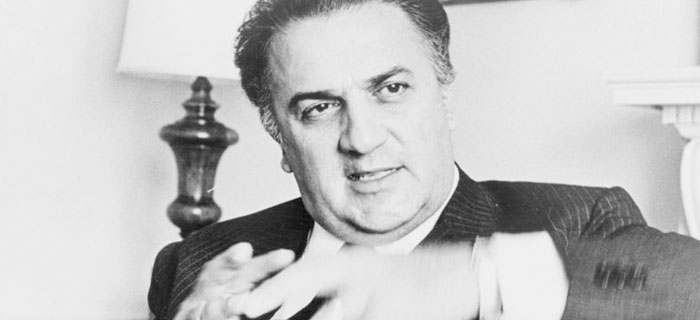 Federico Fellini
Rimini is also the great cinema.
It is the fantastic world of Federico Fellini, in the films of the director (born in Rimini on January 20, 1920) the Rimini past recurs continuously: the Cavour and Tre Martiri squares that become those of Amarcord ("I remember", in dialect), the Fulgor nel Corso cinema that relives in Rome and Amarcord, the beach with the cabins of the "City of Women", the arcades and benches of the Vitelloni, the Grand Hotel.
Federico Fellini – Hollywood gave him 5 Oscars – had a hard-fought and visceral relationship with Rimini where he asked to rest forever.
Now the Master is gone, he left on October 31, 1993.
But his memory is guarded by the Fellini Foundation that in its new headquarters, in via Nigra 26, has opened the doors of the Fellini House Museum: an unmissable opportunity to discover a more intimate Fellini: his readings, his drawings, the stage costumes, the photos of the sets (free admission, open to the public on Saturdays, Sundays and all other public holidays of the year, from 10 am to 12 pm and from 4 pm to 7 pm.
The offices are operational from Monday to Friday, from 9 to 13 and from 14 to 17, info: Tel 0541. 50085- 50303 – www.federicofellini.it).
There is a lot of Rimini in Fellini's films, even if the scenes were always reconstructed in Cinecittà or elsewhere.
To discover them you can start immediately from Parco Fellini where the white Grand Hotel overlooks.
The next stages will be the port and the "palata" where the Vitelloni philosophized tirelessly in a winter Rimini and where the Amarcord motorcyclist came to "gasp" even the train (metaphor of the journey) and the station often appear in Fellini's stories: the original is in Piazza Battisti.
Then there are the various houses where the Fellini family lived, the director himself did not remember his very first home (in via Fumagalli), but only that his father one day vaguely pointed out a street saying that he was born there.